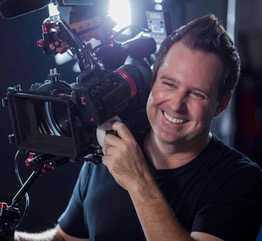 A third-generation Californian, Brian Tweedt, SOC, was born in Orange County, California, and it wasn't long before he was photographing and directing everyone he knew.
After years of enjoying still photography, Brian started his first video production company, TP Productions, at the age of 15 with a high school friend and his parent's video camera.  After producing numerous short videos, weddings, and countless school plays and sporting events, Brian headed to the University of Southern California's School of Cinema-Television (now School of Cinematic Arts).  Like George Lucas and Robert Zemeckis, Brian's senior project, "Unearthed," was selected as one of only four undergraduate projects to be produced at USC.  He graduated cum laude in 1998 with a B.A. in Film Production.
After internships with Discovery Channel and Warner Bros., Brian began working as a director of photography on numerous creative projects including short films, commercials, music videos, documentaries and industrials.  He began traveling abroad to shoot and direct numerous 5-Star resort destination videos for Marriott and Starwood.  He also was hired by such Fortune 500 companies as Cingular Wireless, Sanwa Bank, Wells Fargo Bank, Allergan Pharmaceuticals (Makers of Botox), and Chanel to shoot and/or direct special events and create in-house media.
But it was working as the Sr. Director of Photography on over 750 episodes of Warner Bros. hit television series "ElimiDATE" that established Brian as household name in the emerging genre of "Reality Television."  He developed a new blocking and shooting method called "Triangulation" for the show, and even wrote an article explaining the technique for multi-cam reality series.
After that long run, Brian continued to DP and camera operate in the unscripted world.  Show credits include Lifetime's "America's SuperNanny," OWN's "Home Takeover with Simon & Thomas," Logo's "RuPaul's Drag Race," TruTV's "Full Throttle Saloon," PBS's "Cooking Under Fire," G4's "The Block," and "The High Road with Doug Benson," CMT's "Hulk Hogan's Celebrity Championship Wresting," Oxygen's "The Janice Dickinson Modeling Agency," HGTV's "Deserving Design with Vern Yip,"  "Over Your Head" with Eric Stromer, "Power Broker" with Mike Aubrey and Juan Barbieri, "Flip it to Win It,"  "Color Splash: Miami" with David Bromstad, "Flip or Flop," "Christina on the Coast," and "Flipping 101" with Christina and Tarek, along with episodes of "House Hunters Renovation" and "Vintage Flip," as well as DIY's "Restored" with Brett Waterman.
Brian joined the ranks as one of the entertainment industry's elite cameramen as he was accepted into the Society of Camera Operators (SOC) in 2008.  This honorary professional organization is composed of only a few hundred camera operators and directors of photography around the world.  Brian was recently featured in the "Insights" section of Camera Operator Magazine (published by the SOC) in which he answered interview questions.
Helping develop a visual style for new shows has been keeping Brian busy.  Brian completed two HGTV pilots for Johlt Productions - "Power Broker" and "Flip it to Win It" - and both were picked up for full season orders.   And as he loves a new adventure, Brian also shot two pilots for Travel Channel called "I Could Live There" for Pie Town and another adventure show called "One Way Ticket" for Johlt.  In 2015, Brian shot "Restored" which was picked up and premiered on DIY in early 2017 and is still in production over four years later.  Then Brian lent his expertise for a CNBC short-term rentals/flip pilot called "Cash Pad" in early 2018 which is currently in production, as well as a 51 Minds pilot called "Unspouse My House" which is also in production.  More recently, Brian shot a pilot for Pie Town called "The House My Wedding Bought" in early 2019.  And he shot two more HGTV pilots in 2020 - "The Closer" for Coolfire Studios in St. Louis, and "Room to Grow" with host Nate Berkus for Propagate Content in Los Angeles.
Venturing into new media and video on the web, Brian shot and produced a web series sponsored by First American titled "Unlocking History" which gives viewers access to some of America's most noteworthy homes.  He also produced and shot nearly 100 hours of content for the "Front Sight TV" subscription web portal in 2017-18, receiving a Telly Award for one of the series, "Trial by Fire" in 2017.  He also completed numerous orders of AOL Media's "GMC Trade Secrets" which focus on helpful tips from leading professionals such as chef Curtis Stone (The Take Home Chef, The Biggest Loser, Celebrity Apprentice) and designers Kelly Edwards and Kristan Cunningham (Design on a Dime) and Carter Oosterhouse (Carter Can) which were also awarded Telly's in the "Online Video" category.  And more recently, Brian lensed segments and episodes for the UFC of their web series "Embedded," "Battle Lines," and "Connected."
Over the last four years, Brian has also been working on a feature documentary film, "Still Working 9 to 5," which explores the Women's Movement through the lens of the famed 1980 comedy starring Jane Fonda, Lily Tomlin, and Dolly Parton.  The production took Brian from LA to NY to London (and many places in between) to capture celebrity interviews and scenes with those associated with the film, television show, and musical. The film premiered at the prestigious 2022 SXSW Film Festival, and is expected to be released sometime in 2023.
With his years of remote head experience on the jib, Brian was quick to jump on the drone bandwagon, using those same remote operator skills in the air.  He now owns and operates the DJI Mavic 3 Cine, and is FAA Part 107 Certified for commercial aerial videography & photography.
Operating a small production company (The Birdhouse) providing 8K, 4K, and 2K (HD) cameras and accessories, lights, audio equipment, jibs, dollies, gimbals, quadcopters, teleprompters and more, Brian is able to provide the latest technology and equipment to create beautiful images to capture and tell any story.  You can check out his photo and video tips on The Birdhouse website by clicking HERE.
Brian attributes much of his success not only to his passion for the visual language and technical knowledge, but also to his uncompromising work ethic and friendly attitude on set.
Brian Tweedt, SOC, continues to excel in the entertainment industry as a director of photography who is well adept at camera, MōVI, jib, and aerial operating.