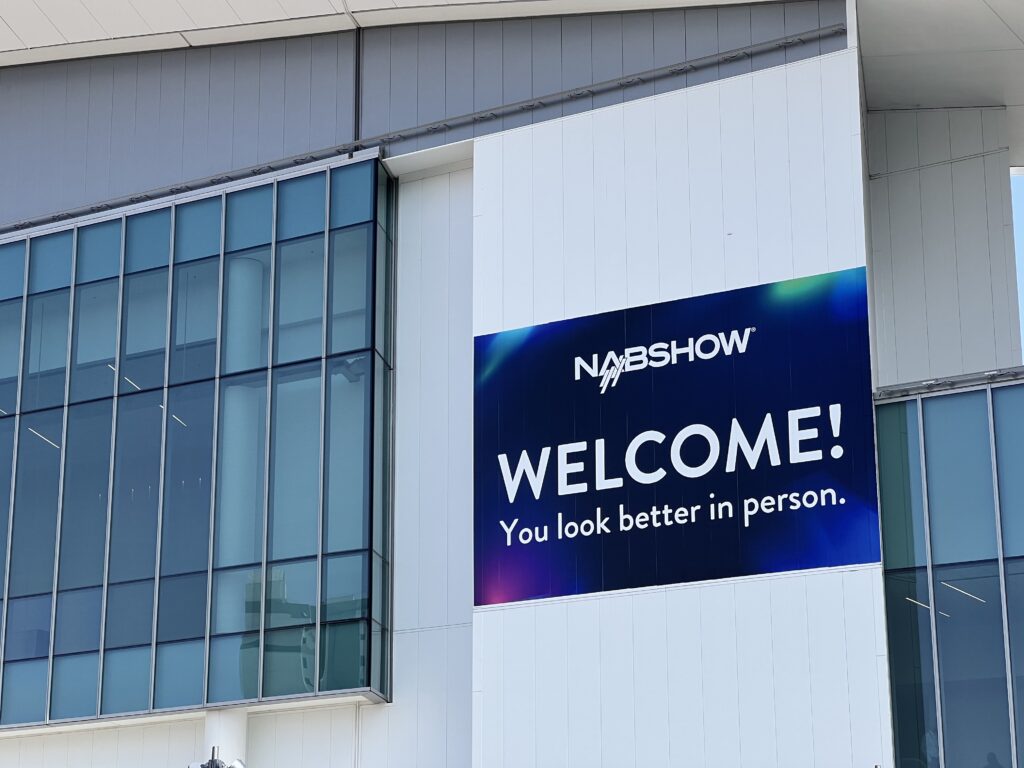 Well, it's nice to be back in person to the 2022 NAB show in Las Vegas, Nevada. It had been a few years since I (or anyone, for that matter) has been able to attend, due to the pandemic. So it was nice to see old faces and meet some new ones. And although it didn't seem as crowded as usual this year with a few vendors not returning and some people staying away, there were plenty of exciting products to be seen. So here are a few of those products that I found interesting…
Lenses
The first place I headed this year was the Canon booth to check out the Canon Cinema "Flex Zoom Full Frame" lenses. They have two new options – a 20-50mm and a longer 45-135mm (pictured). These cinema-style lenses cover a full-frame sensor (such as the RED Monster/RED V-Raptor, ARRI LF). They seem to be incredibly sharp and have a wide aperture of f/2.4. Pretty amazing.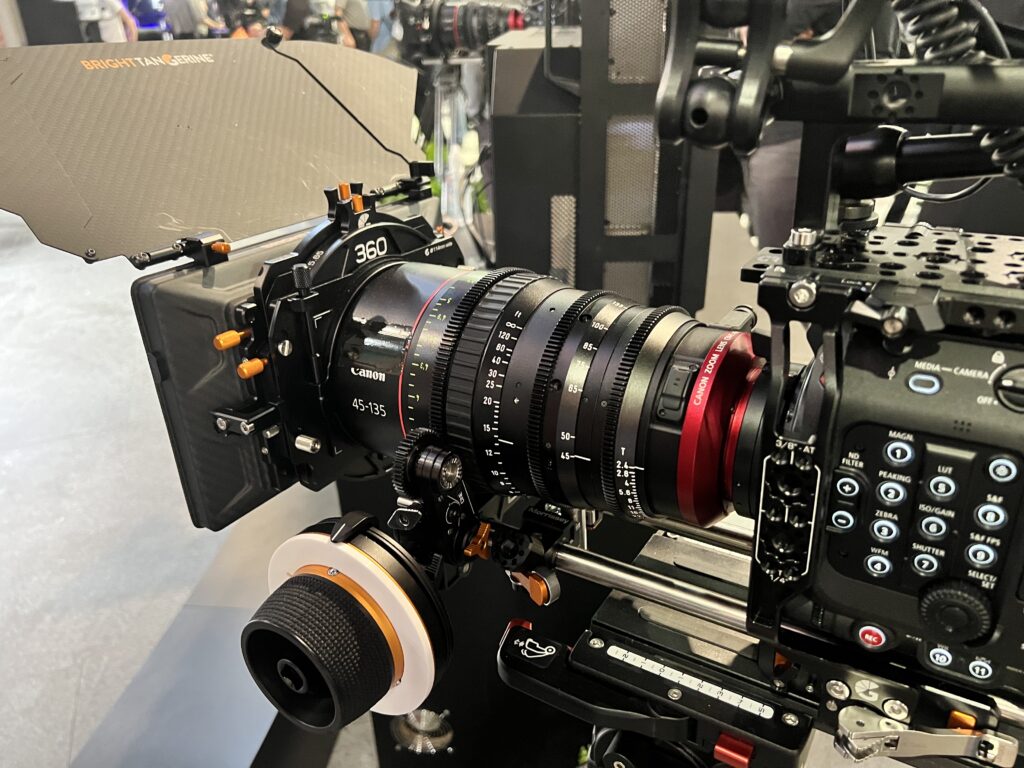 I also looked at the new Zeiss Supreme Prime 65mm lenses which have really beautiful flare characteristics engineered in. And they are able to create this flare with almost no loss in contrast. Definitely worth checking out.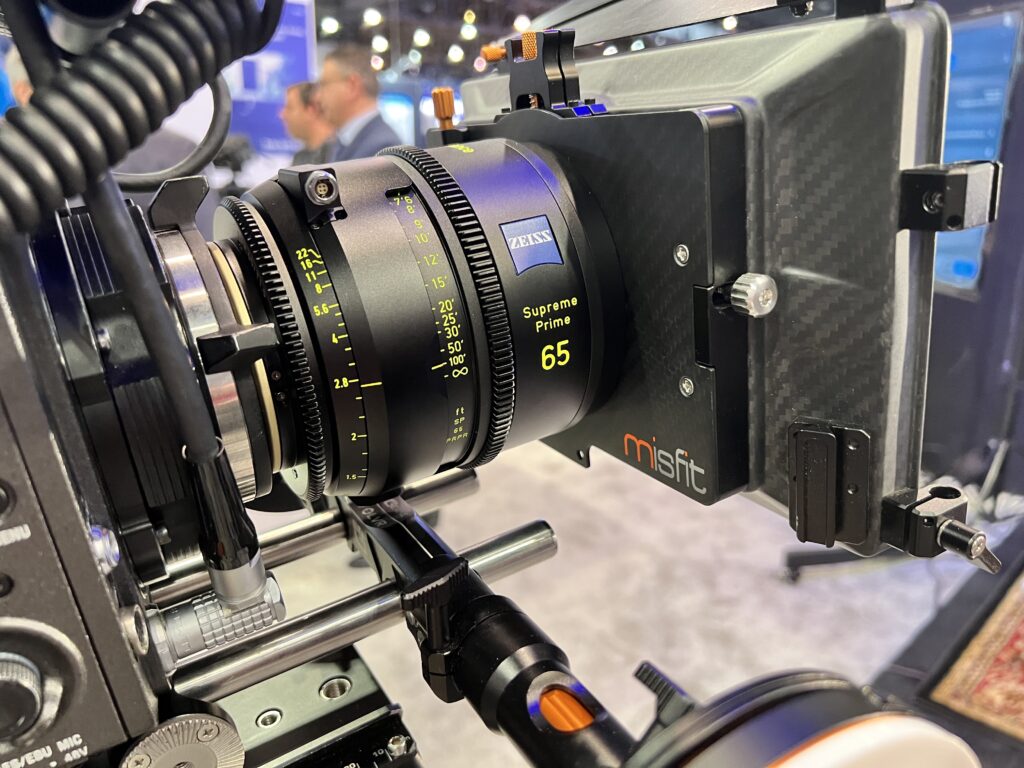 Lighting
While I looked at many lights, there were some new interesting products from Aperture were quite exciting. This game changing Aperture "Accent B7C 8-Lite Kit" (pictured below) are actually Edison-style light bulbs that screw into a normal light socket. "Practicals," if you will. But, they have their own internal battery, and can be dimmed and the color can be changed (2,000-10,000K). So this is a big deal if you are ever in a house and have lamps that don't work, you can screw one of these in and problem solved! I wish I had these on many of my HGTV shoots! And you could use these creatively, also.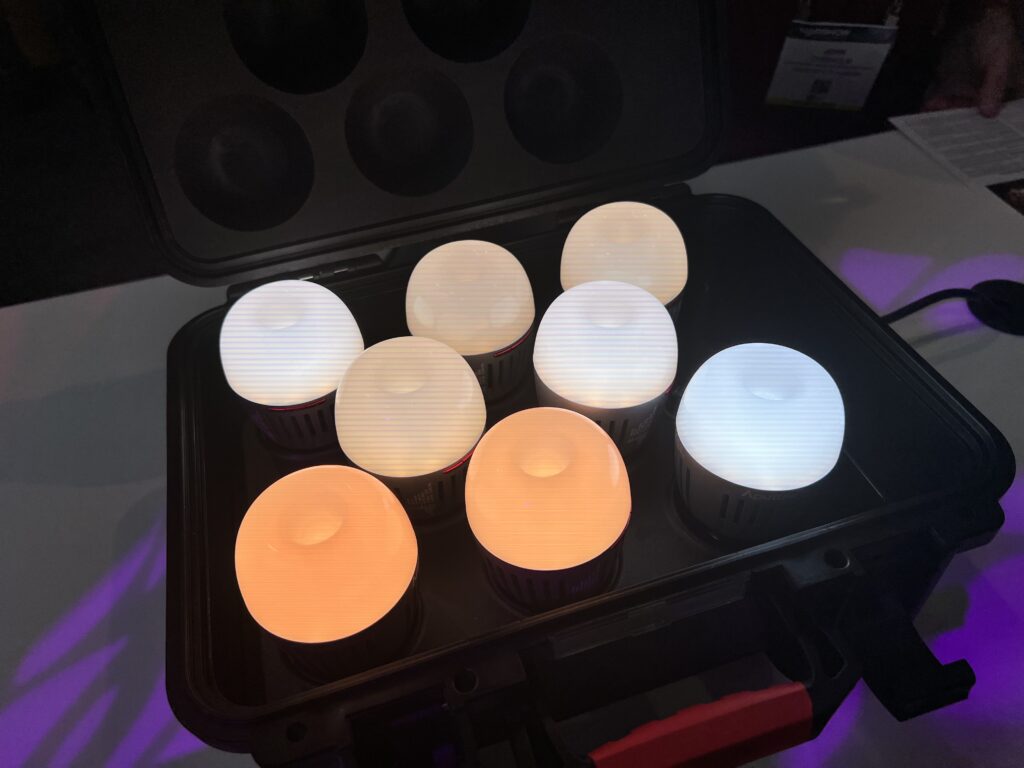 These Amaran T2C tubes are similar to the quasars you may have seen around, but they have a removable battery. So if you affix a light somewhere and then the battery dies, you can just swap the battery without moving the light. The only drawback that I see is that you do have a black bar at the bottom (which is the battery), so this could not be great for your aesthetic if you will see the entire fixture in one frame, but it might not be an issue at all. Of course, they are dimmable and the colors can be changed though an app.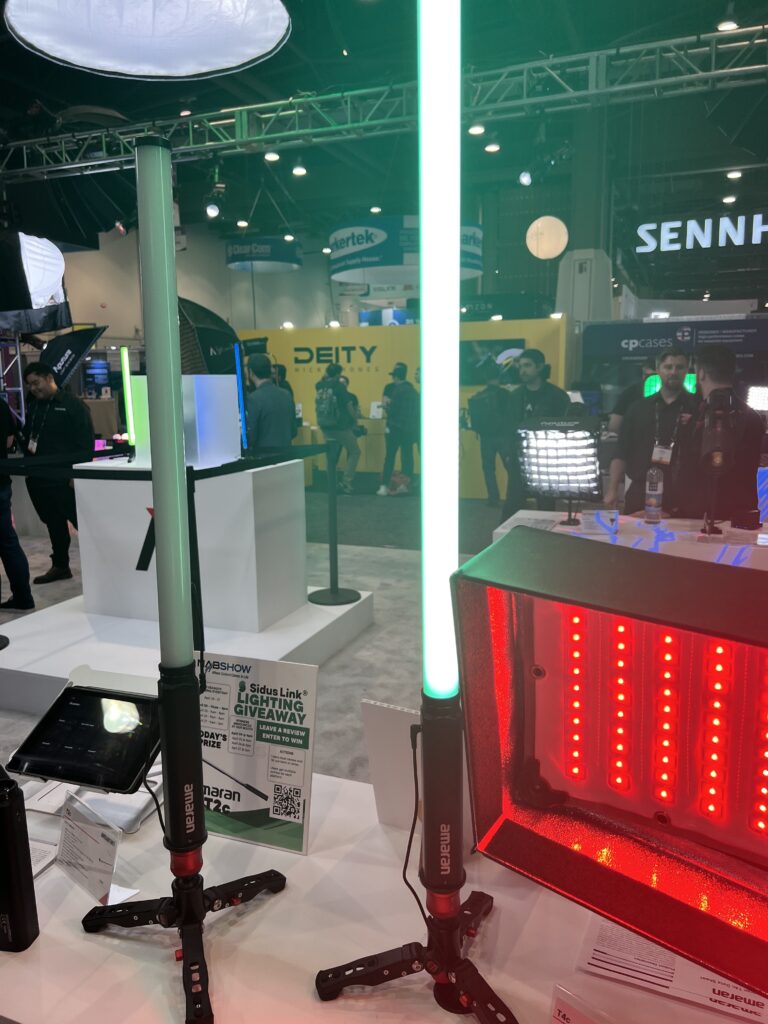 Cameras
I was hoping to see the RED V-Raptor and the RED V-Raptor XL, but RED was not here this year. However, I wa able to see some cameras that I had not seen in person that have come out in recent years.
First off I is the new "BlackMagic Ursa Mini Pro 12K" camera. I was impressed with it's image on the screen at the demo. This certainly should be a consideration for cinematic shooters if they are on a budget.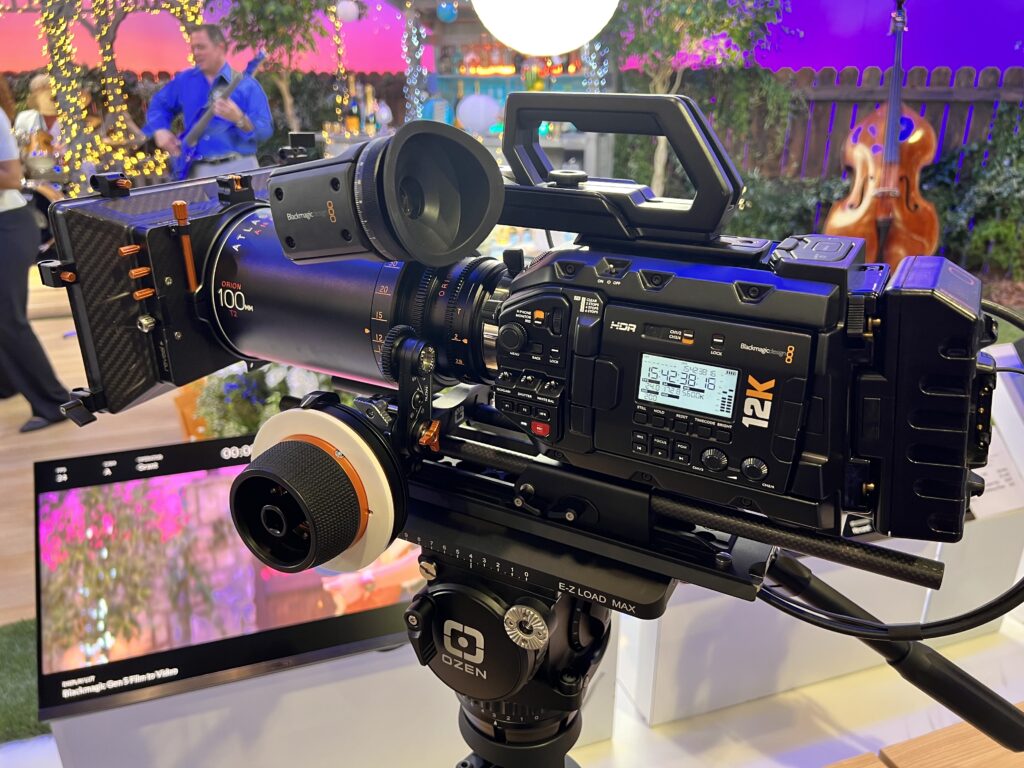 And below is the ARRI Alexa Mini LF. Though not new this year, the camera has become popular as a Large Format sensor camera. The price will put this out of range for many owner-operators as it's over $60K.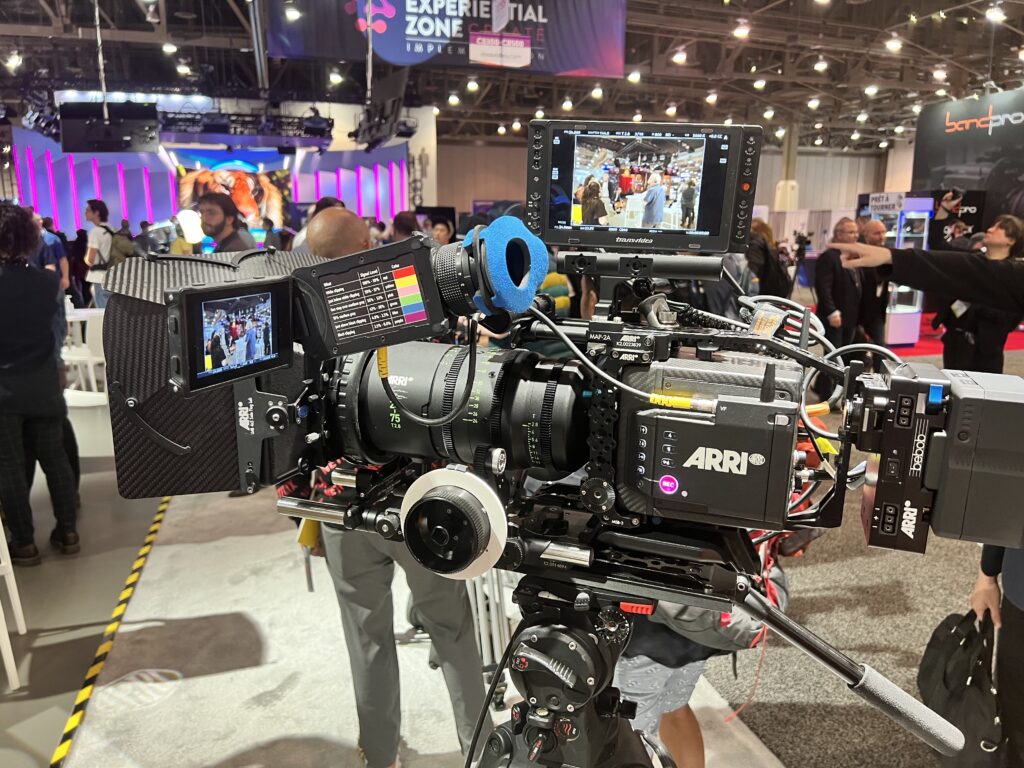 Camera Support
I also checked out Cinema Device's "Ergorig." It uses a similar concept to the "EasyRig" by transferring the weight of the camera to your hips. But it does it in a smaller package with a lower profile. If you are doing a lot of hand-held camera operating with large cameras, this could be a game-changer for you. I should also note, they also have a center-mount Ergorig for women (or those that prefer the support bar in the center of the chest). And it comes in two sizes -Standard and Short. And it's reasonably priced under $2K.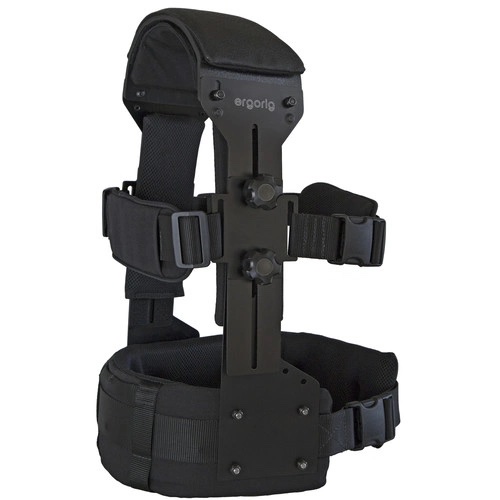 Data Storage
OWC always has a lot of great gear, including their Thudnerblade SSD. But this new "Thunderbay 8" from OWC is a beast (pictured below) if you need a ton of data storage in RAID format. And with their SoftRaid software, you can combine these drives in a number of ways to make your workflow simple and reliable. I might be picking up a few of these as my data needs keep growing.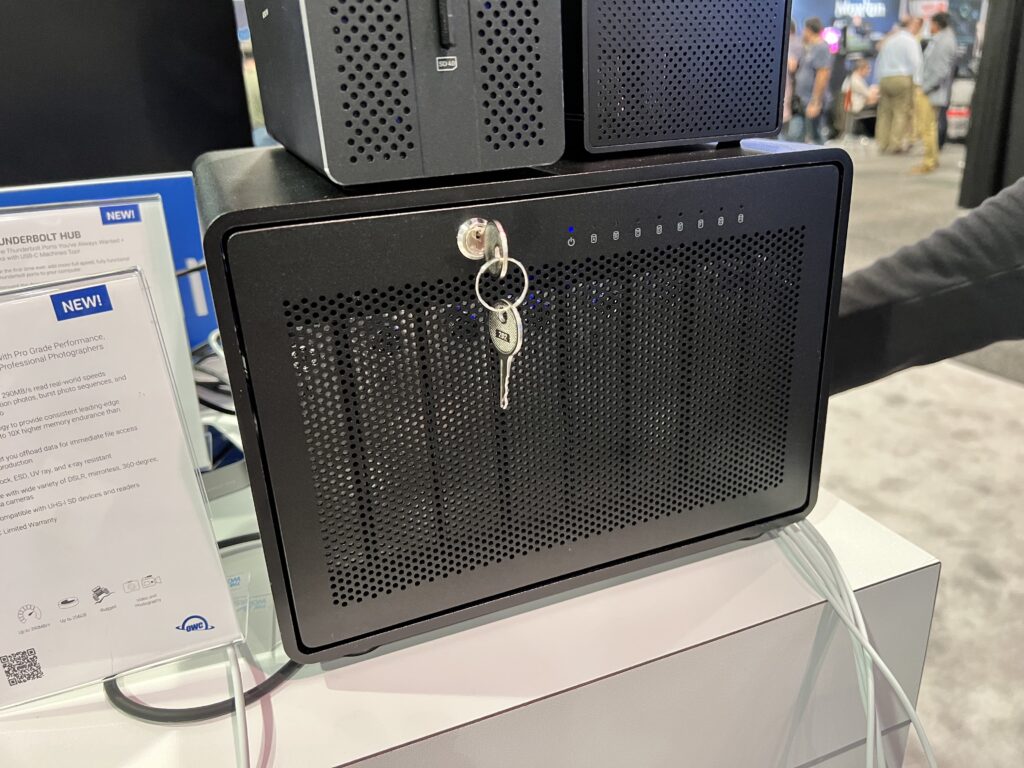 Well, it was another great year of gear! As always, I can't wait to see what the future holds! Thanks NAB!