The 100 Year Anniversary of NAB! Hard to believe, but basically the year my grandparent's were born, NAB started. I can only imagine that those at the first NAB in 1923 would be quite surprised by how far the world of broadcasting has changed in 100 years.
As you walk in to the north hall, one of those amazing things can be seen. A man riding a motorcycle with a robotic camera arm pans around him as the background adapts to create the illusion that he is actually riding the bike. This is quite amazing and hypnotic to watch, and the results are stellar.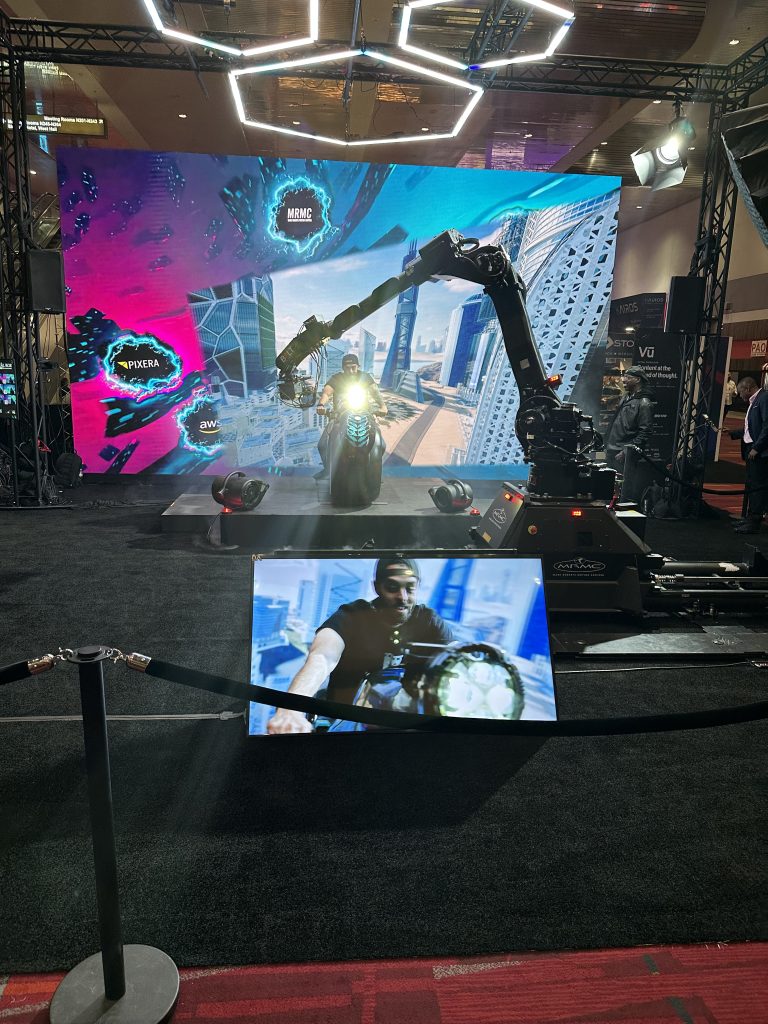 Lighting
More and more LED technology has crept its way into lighting. And even more powerful and improved color accuracy seems to be the trend that manufacturers are striving toward. And I seemed to notice a trend at NAB 2023 – LED technology that generates "hard" light that is controllable. Basically we are seeing a lot of fresnel lighting with barn doors instead of just blasting soft light from a 1×1 or a 1×2 panel. Here are some interesting units I found: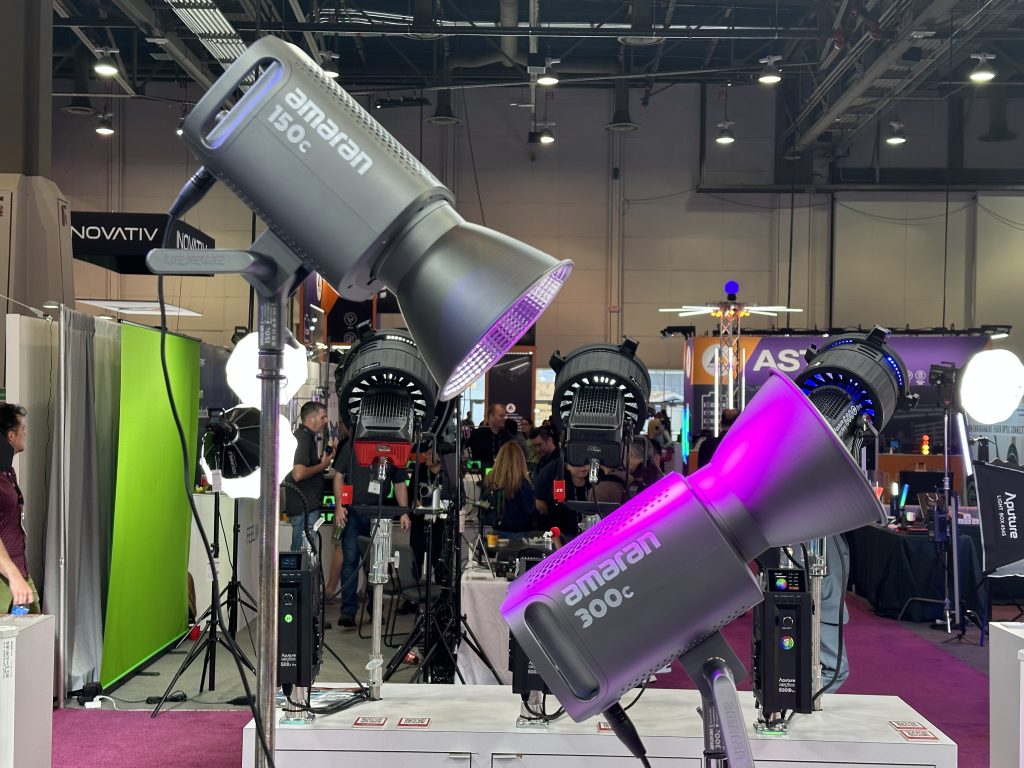 From Aperture, this the Amaran 150 and 300 – Inexpensive units that are similar to a Arri 150 and 300W Tungsten Fresnel, but with RGBWW LED color technology. These are a bit plastic-y feeling, but the price point is very low (starting under $400 for the Amaran 150, and $600 for the 300), making it an affordable option for small, hard sourced lights.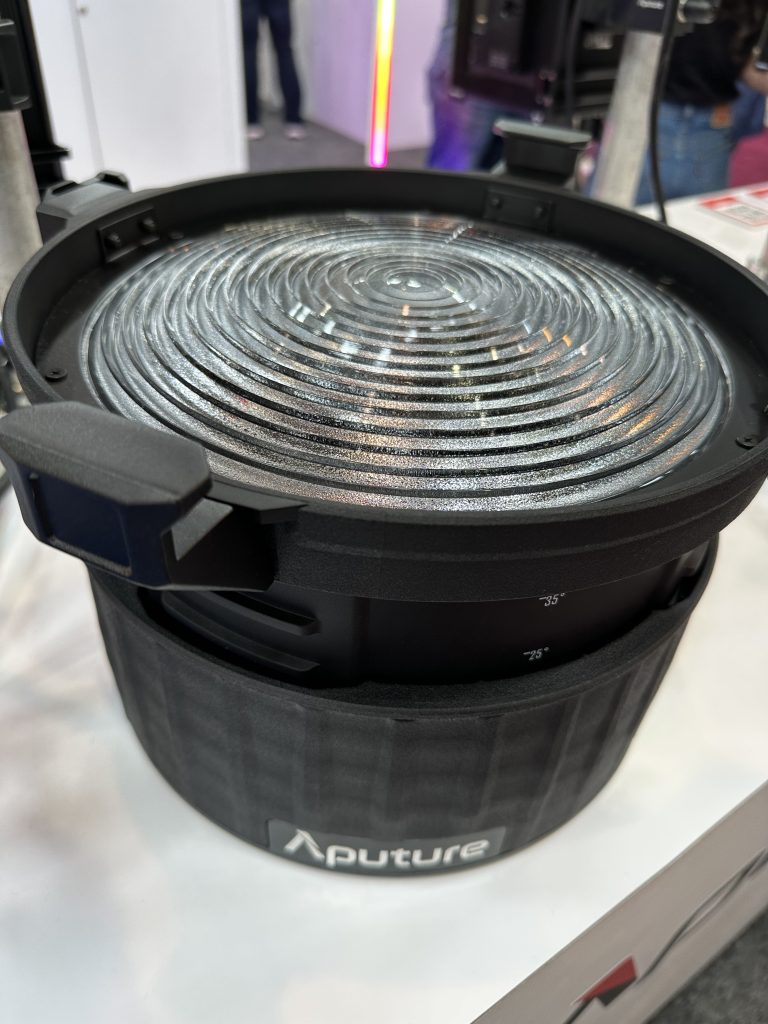 Also from Aperture, this F10 Fresnel lens adapter can be added to the very popular Aperture LS 600D Pro, making it into a Fresnel light for a little over $200. You can even add barn doors to the end to control the light. I joked with the sales rep about adding some scrims to the outside. (Since it's a dimmable LED light, he didn't quite find that joke to be to humorous). Oh, well. This Fresnel lens will be a nice addition to your 600D.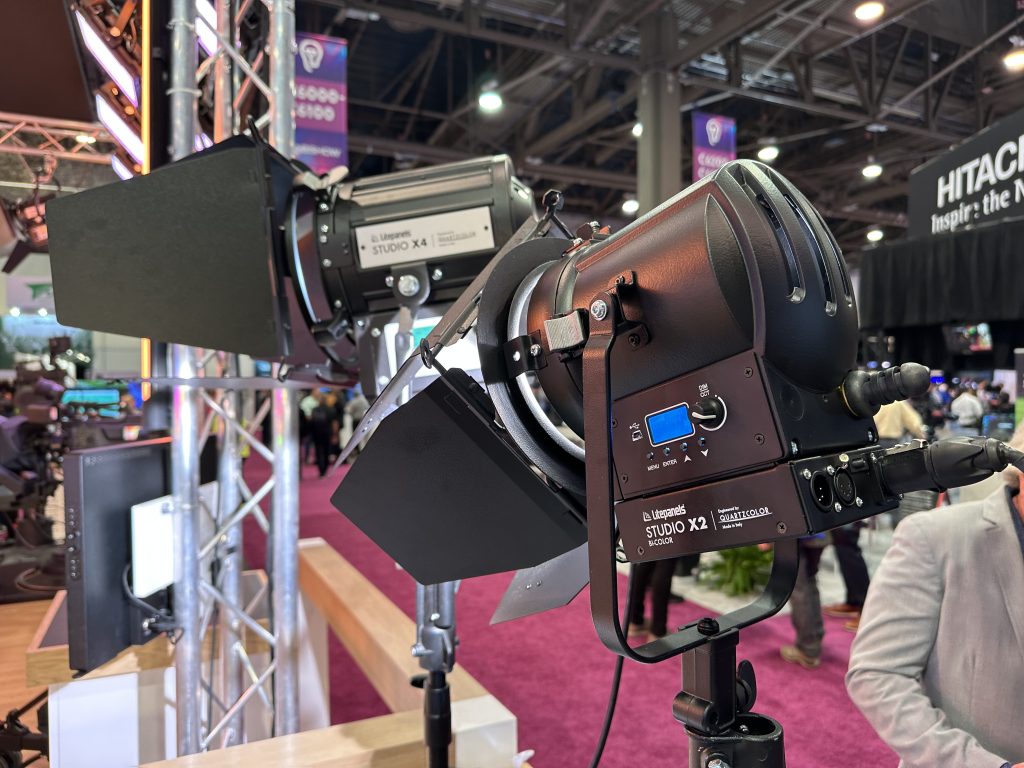 Litepanels is also heading the Fresnel route. They introduced some nice compact "Studio" Bi-Color lights with lenses and barn doors. I didn't get info on pricing on these.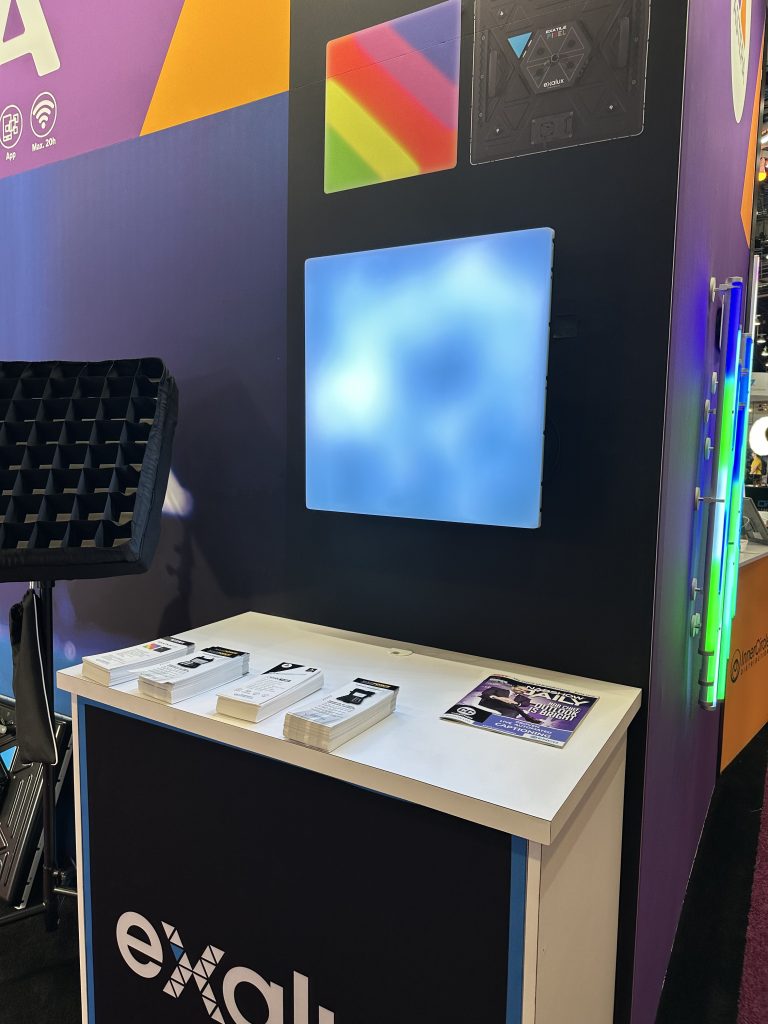 One other interesting thing I saw was the Exatile Pixel which basically can make patterns out of the LED lights. This could be cool for something in the background for a promo or music video or corporate video. I saw a few other manufactures making a similar product – a few were programmed to emulate an open fire, and you could use the light coming off the panel on an actor's face to make a more realistic pattern.
Cameras & Lenses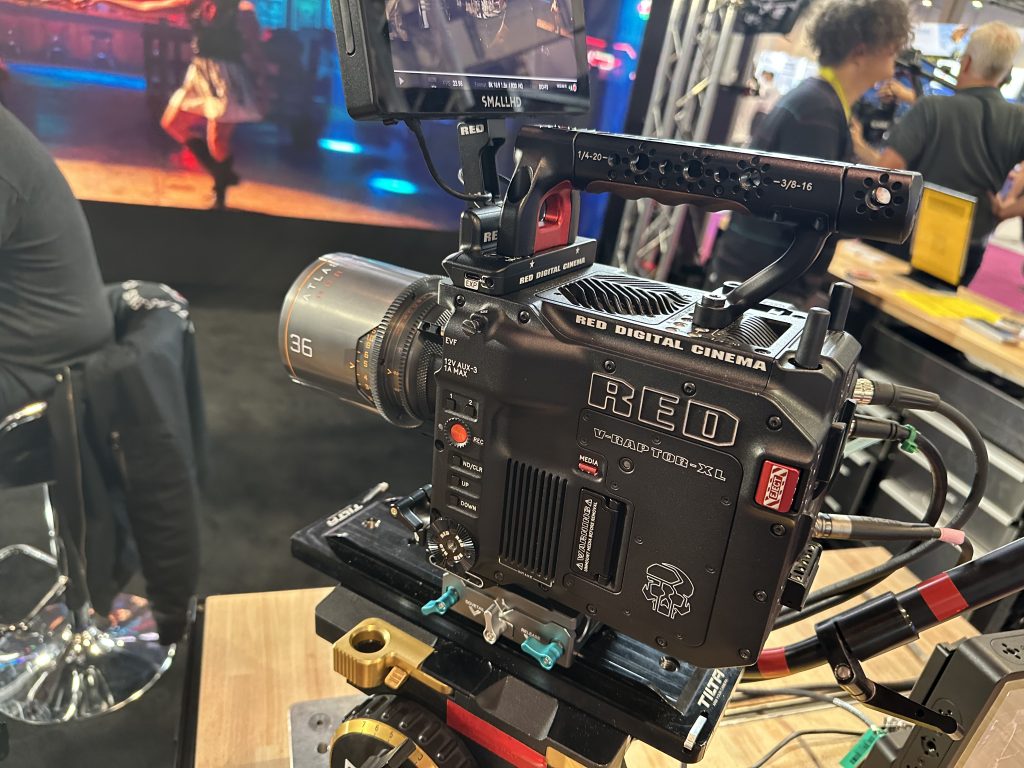 Hard to believe it, but this was the first time I had seen the RED V-Raptor XL in person. I've been using the smaller RED V-Raptor for over 6 months now, but I had only seen pictures of this big guy before today. I was pleasantly surprised to see it actually wasn't overly gigantic. I'd love to shoot with it and see if it's worth the additional price tag for it's additional features.
Anyway, the camera was actually being used to show the Atlas Mercury 36mm Anamorphic lens. This series of Anamorphic lenses are available for pre-order. They did appear to be well-made, sharp lenses with a beautiful bokeh. They are fairly "affordable" at about $8000 each, considering many anamorphic costs tens of thousands.
I also saw the more affordable Sirui Anamorphic lenses (you can get a whole set of 5 lenses for less than the cost of one $8000 Atlas lens). They are lighter and feel a bit cheaper, but could work well for someone testing the water with Anamorphic glass.
Also popular at other booths were "vintage" spherical lenses, including DZOFILM's Vespid Retro series (about $19,000 for a set of 7 primes), and Dulens' APO Mini prime lenses (about $1K each). I saw a lot of young cinematographers pretty excited about the prospect of lightweight and affordable glass options that fit today's digital cameras.
Canon added to its Flex Zoom series of Cine Lenses, now offering this 45-135mm full-frame lens, along with one other (not pictured). This could be a very handy cine zoom for a lot of people in the range of $20K.
Drones
DJI dropped a bombshell by announcing its new Inspire 3 as the NAB Show opened. Along with a new remote, the ability to shoot significantly more upwards, and other upgrades, the big news is that the camera now features a full-frame 8K sensor with ProRes RAW or Cinema DNG recording. This is now a full Hollywood-capable camera, including the options for a 2nd person to operate, and even to have a 3rd person act as a focus-puller. It's not cheap, with the basic package starting at over $16K, so you'll probably be needing to make a career out of flying this bad boy if you want to pay it off.
Monitors – 2K & 4K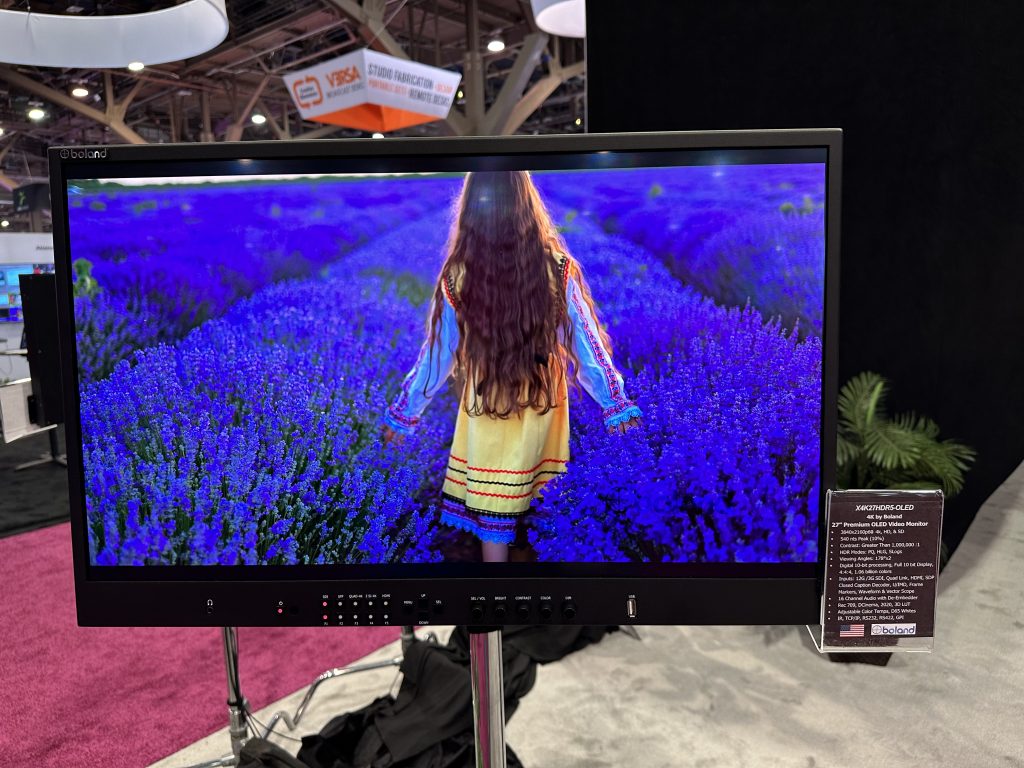 4K Monitors are still pretty pricey – many of them still over $6000 for a 20+ inch version. The good news is that HD monitors are now more affordable – although you can certainly increase the price quickly by having an OLED panel. The blacks on these panels are absolutely amazing, but you might end up paying twice as much as a standard LCD screen for the same size. I looked at brands from Boland (pictured), Small HD, and Flanders Scientific to name a few.